SEVRA Home:

Would you like to launch model rockets in the Hampton Roads, VA area?
The South Eastern Virginia Rocketry Association (SEVRA) would like to invite you to come launch with us - Hobbyists, students, parents, children, visitors, Scouts, Clubs, Groups, etc.
Non-members and spectators are always welcome!
We launch from small 'A' motor size rockets to large high power 'M' motor size rockets.
We also launch experimental motors and hybrid motors.


---
---
- SEVRA Club News -
*** No Launches this weekend due to airshow and weather ***
*** Next NAR Launch is scheduled for Saturday June 1st ***
Club Status report

There will be a vote on two proposals at the next launch. The first item will be to offer a monthly membership. The second item will modify the family membership when more than one family member makes flights that would require either certification or a waiver. If both items pass, paid membership will be required for all high power flights and those requiring a waiver. Details can be found on the SEVRA Yahoo! group. If you would like to vote in-absentia, please send them to the Secretary/Treasurer, Joe Vanlandingham. He'll hold them in confidence until the votes are tallied.

SEVRA has had a busy three weeks in a row with a launch then Red Glare, then another launch last weekend. Many newton-seconds have been sacrificed to the Rocket Gods and hopefully they will look down upon this Club mercifully for the rest of the year.

Phil has been developing a revamped flight card and it looks great we will break these out at the next launch for a test run and If you have suggestions please let him know.

Joe V. has been developing the new and improved SEVRA Membership Card / Name badge. We will try to roles this out next launch. If you already own a neck lanyard (doesn't matter where you got it, work, scouting, a sales conference etc.) please bring it with you but if you don't already have one please let Joe V know so that we can find you a used piece of shooters wire to hang your badge from and drape around your neck. If you would like to see the format for the badge, look in the files section of the Yahoo List serv.

Current SEVRA members should (join and) visit the SEVRA Yahoo! group. There are a couple of business items being discussed and refined there which will be coming up for a vote probably in May or June.


April 20, 2013 NAR Launch Report

What a launch…we continued the SEVRA tradition of getting everything in the air that we possibly could. Nice job guys and gals, 50 or so launches on a day when the weather guessers said we should not be rocketeers.

We had some new folks out there that got the red carpet treatment from the SEVRA members in attendance. Thank-you to all, that is the standard that we strive for, keep up the good work!

We tested out the new Relay launch system. Almost perfect but we already broke one part. That will be fixed by the next launch but we need to monitor this new technology closely. The club is extremely greatful for the significant personal contribution by Randy Regan towards this new launch equipment.

No café / no raffle – we need to do these things for numerous reason. I was responsible for canceling both those activities. They will be back!!!

No vendor – there was not enough business to justify the trip. If you know that you want an item for the next launch you need to order it beforehand with a delivery date of the next launch so that they can have it ready for you and have a reason to come to Fentress.

If you haven't seen it yet Jeff G. has written a program on the Android platform that will check the weight to thrust ratio of any motor. This is handy for the RSO to be able to ensure that there is enough "whoosh" installed in the rocket. Underpowered paper rockets are no big deal. 25lbs of fiberglass is an entirely different deal.


April 12-14, 2013 Red Glare XIV

It was a great time as advertised. It started out nasty with a bunch of inches of rain the night before and basically a mud pit for a parking lot on day one but that was Mother Nature's only curve ball for the weekend. Slowly but surely the field dried out and by the last day muck boots where not required.

There were lots of great flights from the "SEVRA Rocket Gang". With 14 fliers making the trip, our group continues to be one of the most represented outfits at Red Glare and I hope we continue in that tradition. Congratulations go out to Wendy Boyd for her L1 rocket shot. I can't remember all the great flights but there are lots of pics linked on the SEVRA Facebook Page and on flickr (see below).

The only bad news to report is that RG14 is the last time we will see Nick Debrita for quite some time. As all know, he is on leave in New York with his family and soon will depart for a long assignment in Japan. He told me that he was stationed there before so he knows his way around and that there is some form of sport rocketry in Japan that he may get involved with. I know that he will be in touch via Facebook and Yahoo but I will tell you that it was very hard to shake his hand and say good bye. Nick is an incredible force in this club and his absence will surely be felt. Nick "DeBrit-err" (as Neal M at MDRA likes to call him) is the primary reason that we have a good reputation at Red Glare. He has been at our launches early and left late even when he had nothing to fly. Many of us have photos of our flights because Nick stood out in the field where we are not allowed to go and took all those pictures. Nick has encouraged and mentored many of us and I wish I had taken notes at more than one of our conversations. I don't want to make this sound like a eulogy but we, SEVRA, have some mighty big shoes to fill. Last, but not least, we wish Nick safe travels, great success, and a speedy return.

Photos from Red Glare XIV can be found Here and Here.


April 6, 2013 Launch Report

Saturday was a bright, sunny, and windy day. Quite a few members were present at 8:30 to set up the equipment. We had a few new items to work with. Skip brought out a new launch pad with a 1515 rail. It was all nice and shiny so we'll have to launch a few rockets on that and load that up with propellant residue. I also noticed a hose reel being used to wind the extension cords at the end of the day. We need to refresh some of the nuts and bolts on the launch pads. Setup was complete by 9:30 and after a brief fliers briefing and club meeting we started putting rockets in the air.

We had a larger than normal number of fliers and spectators due primarily to a scout troop (need the number) flying their Alphas and an SLI team from NC State. Despite a shortened flying sessions, Navy flight ops began at 3:00 pm, we launched 55 rockets - some more successfully than others. We had our usual mix of tried and true rockets along with some new models trying out some new techniques, designs, or hardware.

The winds were strong near the ground but mild aloft. Joe Z had two test flights that did not go entirely as planned and two flights that went very well. One of the test flights was using a Telemetrum Telemini altimeter and a Cable Cutter to convert the Formula 75 to dual deploy. The Formula 75 went up on a CTI H399. The hardware worked as it was supposed to and it was neat to get real time telemetry from the rocket. Unfortunately the shock cord wound around the parachute bundle during descent and the main did not deploy eventhough the cable cutter cut the cable tie. Naturally that rocket impacted on the concrete and not the soft mud. The second test flight was the maiden flight of the G3 on a CTI I445 VMax. For reasons yet to be determined, the Raven 3 fired the apo charge very late and the main deployed at rather high altitude. The big chute and the winds at the ground made for a very long walk as the rocket landed half way down the runway and then was dragged several thousand feet further (past helipad 2 if you know where that is). Joe put up the tube-finned BDR 4.0 on a CTI J244 White for a nice flight. Around noon the Behemoth Bertha (5.5" diameter upscale of the Estes Big Bertha model) was launched to 4000' on a CTI K500 Red Lightning.

The SLI Team from NC State, mentored by Alan Whitmore of the Bayboro "club", made a couple of attempts to get thier contest rocket off of the ground. It did launch on a Aerotech K1000 hoping to reach an altitude of 1 mile. On the way down it deployed a payload. Unfortunately the main did not deploy and the rocket managed to find the asphalt taxiway on impact. There was a fair amount of internal damage and 2 fins were broken off of the sustainer. The payload included GPS, an ArduPilot (Arduino controller and sensors), and realtime telemetry downlink via a ZigBee RF link. I'm sure they'll figure out what went wrong and get thee rocket ready to fly again in short order. Best of luck and we hope you all can come back to fly with us again.

Please send additional commentary and photos to SEVRA621@gmail.com. Launch statistics will be added once the data are available.


View Launch - 130406 in a larger map
Club Project - Large Launch Tower - Contact Pat Harden
---
- SEVRA CLUB INFO -
We are
SEVRA NAR, Section 621 of The National Association of Rocketry (NAR)
Join our Yahoo! SEVRA NAR Discussion Group - This has an e-mail list, messages, photos, files, etc.
[Annual SEVRA NAR Membership Dues are due in June (prorated) - $20 per family. How to join.]

--- and ---

SEVRA Tripoli East Virginia, Prefecture 82 of The Tripoli Rocketry Association (TRA)
Join our Yahoo! SEVRA TRA Discussion Group - This has an e-mail list, messages, photos, files, etc.
[Annual SEVRA Tripoli East Virginia Membership Dues are due in Nov. - $30 per family for new members, and $20 per family for renewals. How to join.]

Note: SEVRA NAR and SEVRA Tripoli East Virginia are separate Clubs with separate schedules.
---
- CLUB LINKS -
Cafepress - SEVRA
Hamptonroads.com/groups/sevra
Facebook - SEVRA
- Our main form of communications
---
View Model Rocketry Clubs in a larger map

---
Nick DeBrita's Redstone at Red Glare XI
-- Featured Image --
Joe Zawodny's Level 3 Flight
-- Featured Video --
---
-- NASA OR OTHER ROCKET LAUNCH SCHEDULE --
Worldwide Launch Schedule
Wallops, VA launches http://www.facebook.com/NASAWFF
---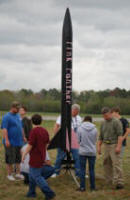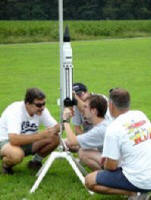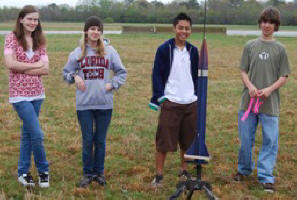 ---

SEVRA NAR, Section 621, of The National Association of Rocketry (NAR)

SEVRA Tripoli East Virginia, Prefecture 82 of The Tripoli Rocketry Association (TRA)

---
Free Web Counters
---